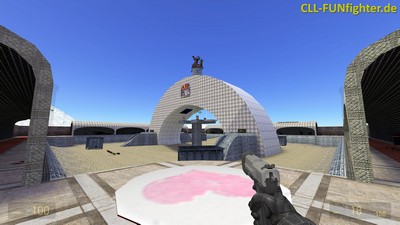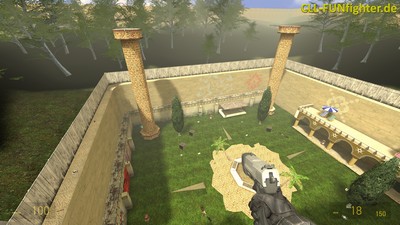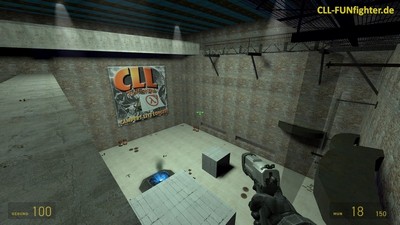 FUNfighter (the real) (18+)
FUNfighter reloaded (18+)
CLL ist tot?! Es lebe CLL!
Diese Gruppe entstand, nachdem der alte CLL-Server leider seinen Betrieb eingestellt hat.
Darum haben sich drei der alten Mitglieder entschlossen den guten Namen -CLL- nicht einfach so
sang- und klanglos untergehen zu lassen.
Wir haben es uns zum Ziel gesetzt Spieler unterschiedlicher Spielstärke zu versammeln, um ohne "Erfolgsdruck",
nur aus Spaß an HL2 Deathmatch, miteinander zu spielen.
CLL is dead?! Long lives CLL!
This group was created when the old CLL-Server closed down unfortunately.
Therefore three of the old members decided not to let go down the good name -CLL- quietly.
We made it to our objective to gather gamer with different ability just to play without pressure
only to have fun with HL2 Deathmatch together.
---
Regeln

§1
Die Admins haben immer recht.
§2
Haben die Admins einmal unrecht, tritt automatisch §1 in Kraft!

>Es wird NUR deutsch und englisch gesprochen oder geschrieben.<

>>Keine GRAVI-GRANATEN, SPAWNKILLS, TEAMS & BELEIDIGUNGEN<<

>>> Kein sinnloses Rumgespringe <<<

>>>> Ansonsten: FEUER FREI!! <<<<
Rules
§1
The admins are always right.
§2
For the case admins are wrong, please refer to §1!

> We ONLY talk and write German or English <

>> NO GRAVI-GRENADES, SPAWNKILLS, TEAMGAMES and SWEARING <<

>>> No senseless hopping/jumping <<<

>>>>For the rest: FIRE AT WILL!! <<<<
---
Spenden

Idealismus und viel Arbeit alleine reichen leider nicht aus
um
einen Gameserver zu betreiben.
Die Spielerplätze, der Fastload, die Stats und einiges mehr
Einige Member zahlen deshalb einen Jahresbeitrag um die
fälligen Kosten decken zu können.
Wenn euch diese Server gefallen und ihr unsere Arbeit unter
stützen wollt,
könnt ihr durch eine kleine Spende dazu
beitragen, daß unsere Server weiterhin für euch
Klickt einfach auf den Spenden-Button
Der CLL FUNfighter sagt schon mal:
Sadly idealism and a lot of work are not enough to operate a gameserver.
The slots, the fastload, the stats and many more we have to fund.
Therefore a couple of members are paying an annual subscription to defray the coming due costs.
Do you like our servers? You want support our work?
Please make a small donation to be sure that these servers
will be ON any longer for your pleasure..
Take a click on our donation button.
The CLL FUNfighter say once before:
MANY THANKS!!!
---
Spender 2018:
'=tarzan=', franks (2 Spenden) , CLL Örly, CLL DJ Ultra, CLL Old Jury, der alte Ami, CLL pbekss, Asgard,
CLL Estragon, greiflam * AFDFCH, CLL Insorzi, Blue Devil, rambazambahoschie, CLL trillian
Spender 2019:
CLL Werner, Raycon, Ika, GTi,
der alte Ami, Asgard,
JKaL - Äppler Eddi, CLL Estragon,
CLL DJ Ultra,
CLL Arschnasenverfolger,
greiflam * AFDFCH,
CLL Örly,
Franksssss,
CLL Old Jury, Something Wicked, Prinz Roy (zwei Spenden),
CLL pbekss
Spender 2020:
CLL
Blue Devil, Raycon, CLL Nokiamann, Sepp,
CLL trillian,
Franksssss
(zwei Spenden)
,
CLL Old Jury,
der alte Ami
(zwei Spenden)
,
Something Wicked,
Asgard,
CLL
Prinz Roy
(zwei Spenden)
,
JKaL Silencer,
CLL Örly,
Spender 2021:
CLL
Prinz Roy (zwei Spenden),
Asgard
, Raycon,
CLL
Django,
CLL
Darius Ponto, CLL trillian,
Hawkmoon,
CLL
Franks (zwei Spenden),
Something Wicked,
DrPhysic,
Ika Pika holter die Waldfee,
CLL greiflam,
CLL Arschnasenverfolger, JKaL Silencer
Spender 2022:
Asgard
, Raycon
, CLL DJ Ultra
,
DrPhysic,
CLL Örly,
CLL
Prinz Roy (zwei Spenden), Something Wicked,
CLL trillian,
CLL
Franks,
JKaL Silencer,
CLL
Django,
Spender 2023:
DrPhysic,
Asgard, CLL Robin,
CLL greiflam,